ENnies Award Winner 2019
"Best Digital Aid / Accessory - SILVER"
NEWS
Saturday 30th - Sunday 31st May 2020
Launching the Circle of Worldbuilders Weekend Masterclass for Game Masters
On Saturday 30th - Sunday 31st May 2020, The Circle of Worldbuilders - a new initiative from World Anvil, DungeonFog, GreatGM and Caeora - launch their first Online Game Masters Workshop.
The event will take place on Twitch.tv and Youtube Live and will be free to attend. For active participation, please read below!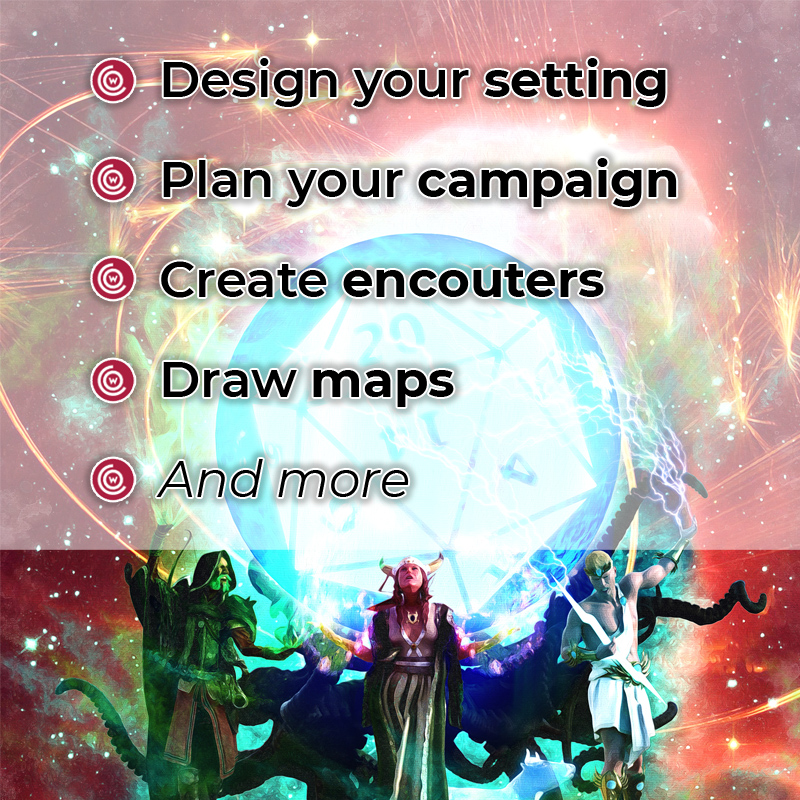 In this two-day online event, experts in their field walk game masters of all abilities through
how to create an intriguing campaign plan,
build an exciting campaign setting,
and create the most engaging encounters!
This workshop is ideal for any Game Master looking to polish and refine their skills, as well as for new Game Masters.

The workshop will be system agnostic, making it ideal for any GM, and will focus on elements of worldbuilding and storytelling to make the most engaging campaign possible.

Day one of the workshop will focus on first principles, whilst day two will have an interactive component, during which participants from the newsletter list will be invited to submit work for masterclass-style critique, an excellent learning experience for audience and submitter alike.

To take part, and improve your skills as a Game Master, just go to the Circle of Worldbuilders website and sign up for the newsletter!

Signing up will get you more details about the event, and give you a chance to participate in interactive activities during the weekend. Newsletter subscribers also receive the handouts and supplements that support the workshop.