New Update: Repaint Rooms & Create Room Groups

With this update we are releasing two new features that will help a lot to improve your map making, along with some other enhancements and bugfixes that I will list below.
But first:
Repainting rooms with our new bucket tool

Creating a map is often a fluid process where you don't want to interrupt your current workflow with changing room textures or wall settings for every room you draw.
Therefore we have added a tool that allows you to quickly "repaint" your rooms with a few clicks. I think this will help a lot, since you can now focus on mapping out all rooms in one flow and change their appearance afterwards with a lot less effort than before.
How does the new tool work?
In your toolbar you will find a new paint-roller icon.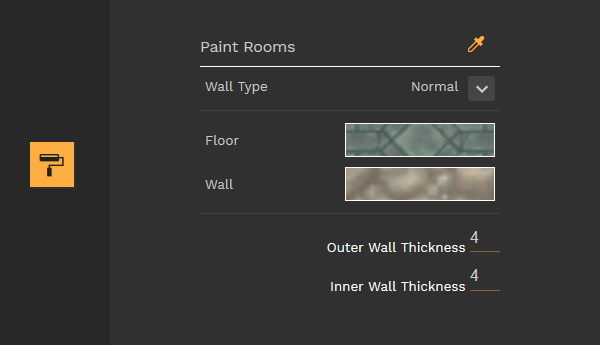 Simply switch to the paint tool and adjust wall type, floor and wall texture the way you want them. Then click on the rooms and apply the new look to every room you click on.
If you want to pick up a paint style from an existing room, activate the pipette and click on the room you want to use as template.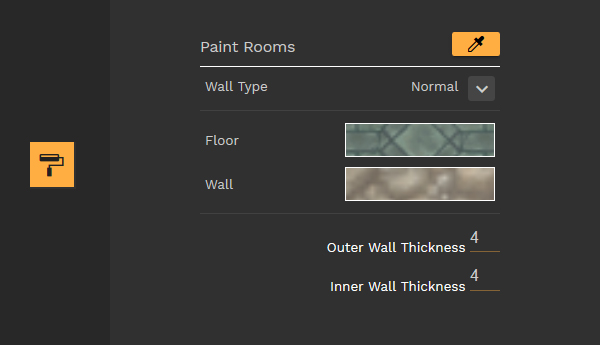 Here you can see the new paint tool in action: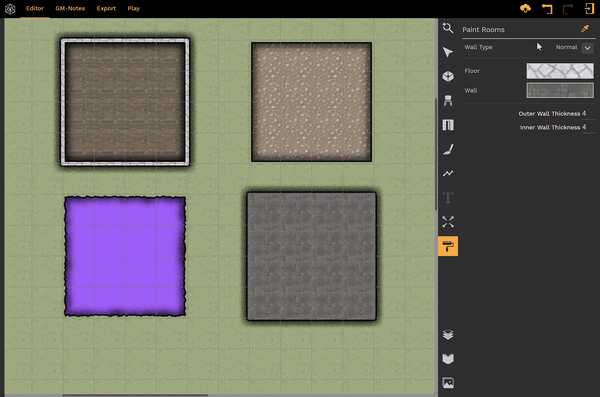 Adding room groups to your layers
With this update we have:
Introduced the possibility to group rooms.
We have also shifted the layers & levels panel to the right, so that you have more space.
We have added a way to directly edit object names in the layers panel
Layers now keep their position/status to reduce the amount of clicks while editing several rooms at once.
Creating room-groups will help a lot to keep your layers organized, and will help you to create constructs that consist of more than one room (like houses, or dungeon sections). Resolving the previous room-in-room dilemma in our previous update was a big improvement. But it removed the possibility to create objects that contained more than just one room.
So here is part two of that optimization: The room groups.
You can now group rooms into folders to:
Organize your layers and keep them neat and clean.
Move grouped rooms together as one object on your map.
Display grouped rooms as one object in your notes.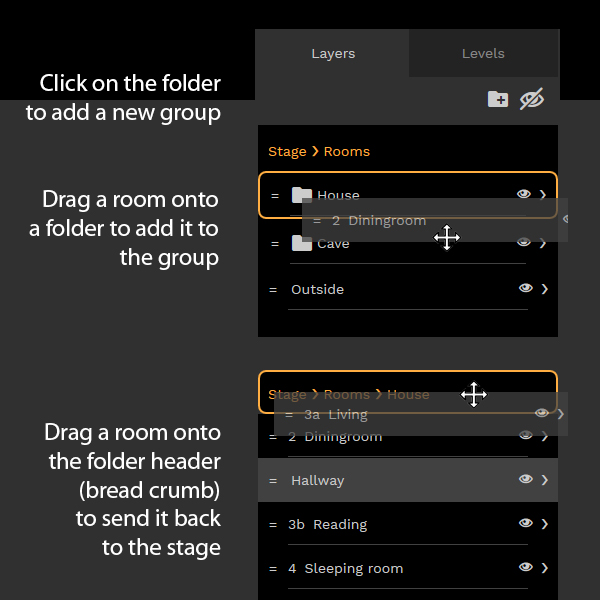 To do so, click on the new folder icon in the top right of your layers panel to create a new folder. Then simply drag all the rooms that should be grouped onto that folder. If you want to remove a room from a folder, drag it to the yellow header (the breadcrumb navigation) to send the room back to the stage.
This also comes with a pretty cool new feature for your GM-Notes:
Groups can have their own description and are now displayed as one image in your notes. All rooms are then listed as a collection of tables below. This not only reduces your effort on creating notes, but also gives you a pretty neat visual for your notes: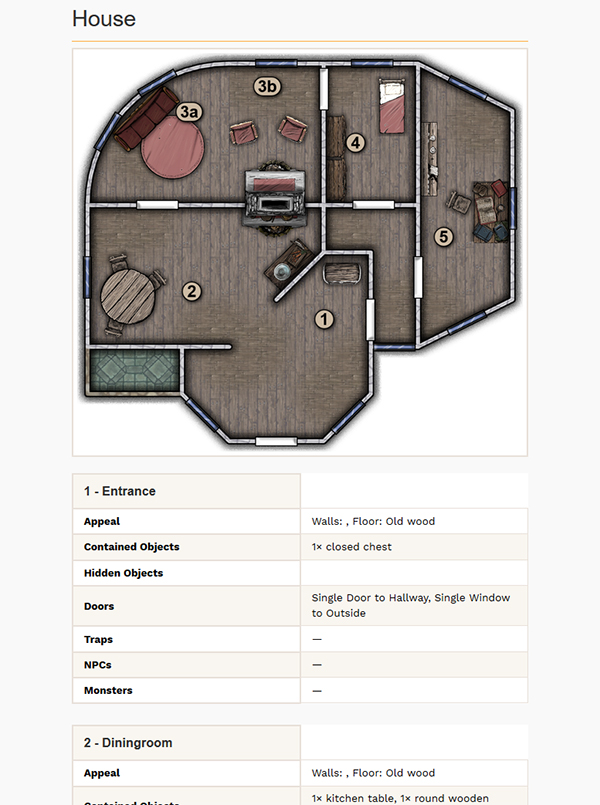 Your feedback is AWESOME!
It is beautiful to see how the community is growing together. I was always hoping, that DUNGEONFOG would inspire people to work with us on the creation of this tool. And the past weeks have shown that this wish is becoming more and more reality.
Thanks to your active participation we were not only able to remove bugs (which we are always happy to eXterminate), but you actively came with new suggestions and ideas to improve the tool. I am happy to announce that some of those are now implemented:
The whole repositioning of the layers was thanks to your active participation
You can now rename objects directly in your layers.
You can now hold the SHIFT Key to bypass the snap-to-grid in all tools.
Thanks to your feedback we were able to improve the way our select tool works.
We have added a lot of new props (like ladders, fire or the new rounded stairs) based on your suggestions.
There is so much more I could name....
So thanks a lot and keep coming with your ideas - we can't promise that we will be able to add them all (at least not immediately) but we love to see how our tool inspires you and your active participation is a great inspiration for us as well.

Closing the work package advanced room handling (for now)
I know. I know. Having all those cool new features IS arousing the need for more.
What about room groups IN room groups?
What about copy/pasting rooms or room groups?
What about rotating rooms or groups?
Where is multi-select to add several rooms to one group instantaneously?
I want to cut/paste rooms or groups to different layers!
...
Patience you must have my young padawan!
For the next sweep of new room features it is easier for us to first start with some advanced prop features. A lot of prop mechanics are similar for both types, rooms as well as props, but are way better to start of with props. This will allow us to test and improve our scripts as well as start to dish out the first improvements to prop handling.
So before we return to improving room features we are now closing the door on our work package "Advanced Editor Features - Rooms" but leave it ajar for more updates later. And we will now switch over to the next work package "Advanced Editor Features - Rooms".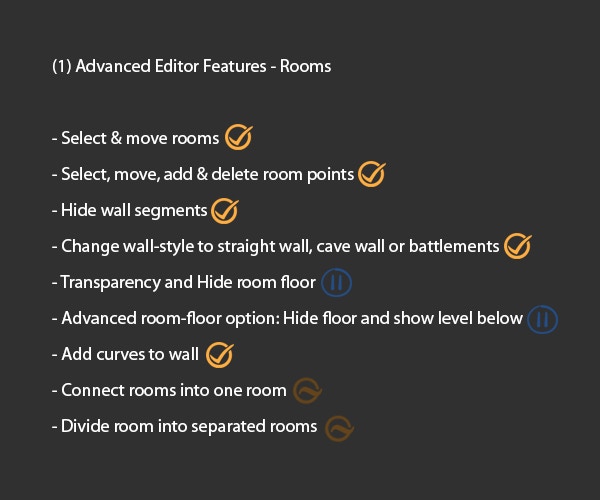 What's next
For the rest of the week we will fix whatever nasty bugs you will find, that slipped through our watch. Beginning with next week we will then start working on the next work package: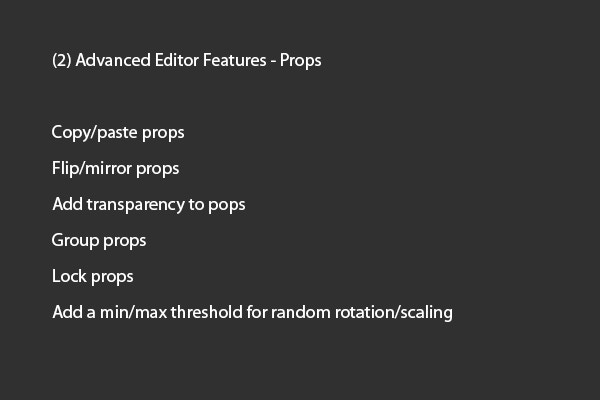 So have fun testing and let us know what you think on Discord or our forum!
Let the dice roll!
Till